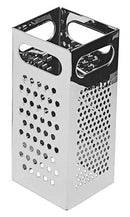 Description
Great for all-purpose grating, this stainless steel food grater features the classic design that allows for several degrees of coarseness, making it an ideal choice for all types of kitchen environments.
Product Features
Measures 4" x 4" x 9"
Stainless Steel
Payment & Security
Your payment information is processed securely. We do not store credit card details nor have access to your credit card information.