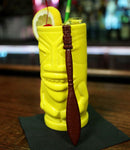 Description
Liven up your tiki cocktails with these fun and attractive swizzle sticks! These 6" Tiki Stirrers feature one of the most popular designs on the market today. The little tiki man sitting atop of the paddle is sure to add a bit of fun to any cocktail! They come in a classic brown color and have beautiful detail work along the front of the stirrer. Just add these to any cocktail for the instant feel of being on the islands of Hawaii!
Features
Made of plastic
Perfect for tiki cocktails
Hawaiian themed design
Great way to liven up your drinks with fun and attractive swizzle sticks
Ideal for tiki bars, parties, and events
Dimensions: 6" x 0.75"
Packs of 250
Proudly made in the U.S.A.
Payment & Security
Your payment information is processed securely. We do not store credit card details nor have access to your credit card information.