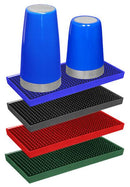 Description
The Shaker Mat™ was designed with working bartenders in mind. This mat gives them extra drain room for cocktail shakers to keep bar tops spill-free and sanitary. Don't use dirty towels on your bar or take up space with a server mat for mixing. This Shaker-Mat™ measures 9" x 4.38" and is available in blue, red, green, and black. They're large enough for single bartenders but small enough to be coupled together for multiple applications.
Features
Keep bar top spill-free and sanitary
Dimension: 9.19" x 4.38" x 0.625"
Available color: Red, Blue, Green, and Black
Payment & Security
Your payment information is processed securely. We do not store credit card details nor have access to your credit card information.