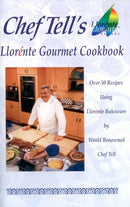 Description
World Renowned television host and restaurateur, "Chef Tell" shares over 50 recipes in his classic "very simple, very easy" style. He will teach you how to cook practically anything with Llorente silicone bakeware, some of the finest quality silicone bakeware ever made.
Additional Info
Publisher: Media Group (2000)
Over 50 recipes using Llorente Bakeware
Paperback: 79 pages
Language: English
Payment & Security
Your payment information is processed securely. We do not store credit card details nor have access to your credit card information.