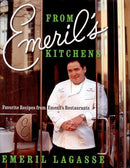 Description
Do you enjoy "kickin it up a notch"? This is certainly the next best thing to actually eating at one of famous chef and restauranteur Emeril Lagasse's restaurants. He has compiled 150 of his most popular recipes that you can now enjoy from your own home. Recipes like Barbecued Shrimp with Rosemary Biscuits, Brown Sugar Shortbread Cookies, Soufflêd Spinach and Brie Crêpes, and Poached Grouper with Mango Salsa. If you love the art of cooking, then this book is for you.
Summary
Making your favorite Emeril dishes at home
Enjoy tons of memorable meals
Some of the most requested recipes from six of his famous restaurants
Additional Info
Hardcover: 352 pages
ISBN-10: 006018535X
Dimensions: 9.7 x 7.2 x 1.3 inches
English
Emeril Lagasse is donating a portion of his proceeds from the book to The Emeril Lagasse Foundation, a nonprofit organization established to support and encourage programs that create developmental and educational opportunities for children.
Payment & Security
Your payment information is processed securely. We do not store credit card details nor have access to your credit card information.