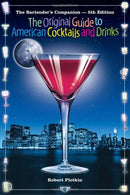 Description
The book, "The Original Guide: American Cocktails and Drinks" written by Robert Plotkin is a great reference for the working bartender, cocktail geek and for those at home who want to impress their friends with a great libation. This new edition spans the breadth of mixology, including all the classic cocktails, infusions, the hottest Cosmopolitans, colorful and refreshing tropical drinks and ice cream drinks, Martinis and Manhattans, coffee drinks, plus much more.
Summary of Highlights and Features
Includes a great index
Includes photos and reviews of the hottest liquors and liqueurs
Written by Robert Plotkin, an expert in the field of mixology
Additional Info
Paperback: 338 pages
Publisher: Barmedia; 5 edition (September 15, 2004)
Language: English
Product Dimensions: 6.1 x 0.8 x 9.1 inches
Payment & Security
Your payment information is processed securely. We do not store credit card details nor have access to your credit card information.