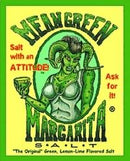 Description
There are so many ways to enhance the presentation and flavor of your cocktails. Our Cocktail Crystals Rimming Salts and Sugars are the perfect way to do just that! Choose from many flavors and colors (salts for margaritas, sugars for sweet martinis) and add an artistic, tasty element to your concoction. Your guests will be impressed as you take your bartending skills to a master level.
Consider adding a sugary rim to your Texas Style Lemon Drops, or a Mean Green™ salt to the rim of your signature Margarita. These Cocktail Crystals work perfectly with our
Salt Rimmers
. Simply fill one compartment with your adhesive (lime juice for salty drinks, honey for sweet drinks), and fill the remaining rimmer compartment(s) with salt / sugar of choice. Evenly dip the rim of your glass with the adhesive ingredient, and then carefully spin the sticky rim within the Cocktail Crystals. Fun, easy, tasty and elegant! Available in 1 pound pouches.
**Available in U.S. and Canada Only**
Margarita Salt:
Mean Green Margarita® Salt (lemon-lime flavored green salt)
Green
Red
Gold
Orange
Purple
Pink
Turquoise
Rimming Sugar:
Red
Pink
Red Pomegranate
Blue
Red Watermelon
Red Raspberry
Yellow Pineapple
Green
Turquoise
Orange
Purple
Payment & Security
Your payment information is processed securely. We do not store credit card details nor have access to your credit card information.