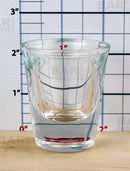 Description
The BarConic® Glassware line offers a durable 1 ounce shot glass for serving single liquor shots to your guests. The 1 ounce Thick Bottom Shot Glass is a sturdy shot glass, that offers a slightly weighted feel to the base and is able to withstand being slammed on the bar without shattering. Great for both bars and restaurants, because these shot glasses are made from high quality glass at a fraction of the cost.
Summary of Highlights and Features
Durable thick base design
Comparable to 1 ounce Whiskey Shot Glass
Classic shot glass shape and design
Ideal for serving single shots of liquor
Designed for bars, restaurants, and caterers
Additional Info
Capacity: 1 ounce
Measures 1.18 oz. / 35 ml. when filled up to the rim
Height: 2.375 inches
Top Diameter: 2.0 inches
Base Diameter: 1.375 inches
Case Weight: 21.05 lbs
Case Dimensions: 14" x 9.25" x 9"
Care and Instructions
Payment & Security
Your payment information is processed securely. We do not store credit card details nor have access to your credit card information.