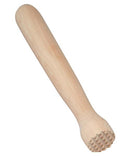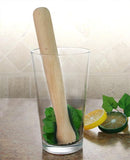 Description
Serving high quality cocktails requires the correct bar tools, and the muddler is one of them. Our Beechwood Muddler has a classic blonde wood finish making it perfect for any home or outdoor bar. Using a muddler to extract the full flavor of the ingredients is a great way to take your cocktails to the next level.
Summary of Highlights and Features
Make cocktails that require muddling
Extract the maximum flavor from the ingredients
Grinder edge and Smooth edge
Smooth blonde wood finish
Comfortable grip
Additional Info
Length: 8 inches
Head Diameter: 1 inch
Material: Beechwood
Care and Instructions
Payment & Security
Your payment information is processed securely. We do not store credit card details nor have access to your credit card information.