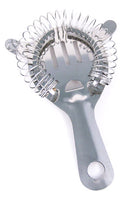 Description
The Two Prong Strainer, also known as a wire or cocktail strainer, is most commonly used with a 28oz shaker, 16oz shaker, or a mixing glass to strain fluid away from ice while pouring into a glass. Constructed with professional grade stainless steel.

Beginners often wonder, which strainer to go with, a Two Prong or a Four Prong? They both serve the same purpose. Some like the 2 prong because it can be stored inside a 28 oz. shake (except for two prongs and a little wire sticking out of the top). Others say the 4 Prong is more stable. It's mainly a matter of preference.
Payment & Security
Your payment information is processed securely. We do not store credit card details nor have access to your credit card information.