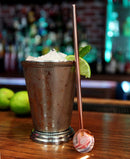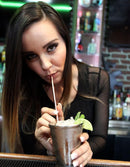 Description
Go green with reusable straws! These straw spoons are not only Eco-friendly, but are also quite appealing. They are constructed from a high quality stainless steel and then beautifully plated with a reflective copper finish. They are perfect for sipping, scooping, and stirring. Serve them up with a delectable Mint Julep for an all-star drink presentation!

The Olea™ bar tool collection is beyond comparable to other high end name brand bar tools. This line will bring you the same quality and utility, but to a fraction on the cost. We guarantee you will love it! Not Dishwasher Safe.
Summary
Great for craft cocktails
Trendy way to serve cocktails
Reusable straw
Ideal for bar or home use
Additional Info
Measures: 7.55" x 1.125"
Straw Diameter: 0.20"
Made of Stainless Steel with copper plating
Sold individually
Care
Hand Wash Recommended
All plated items are not dishwasher safe
Payment & Security
Your payment information is processed securely. We do not store credit card details nor have access to your credit card information.