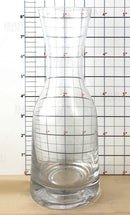 Description
Our BarConic® Half Wine Carafe (also known as Wine Decanter) is an attractive way to serve your guests their favorite wine. This high quality Half Wine Carafe is designed with a wide mouth for amazing aeration allows you to enjoy the full flavor of your favorite wine. It's a "Win Win" with BarConic® Wine Carafes. One of the most profitable ways to offer wine is by the "Full Carafe", "Half Carafe"(as shown here), and "by the Glass". Offering it this way allows operators to purchase wine in larger, more economical sizes, such as 1.5 ml and 3 liter bottles and then offer it in the sizes mentioned above. This will gain you a larger wine drinking audience as this "repackaging" can also offer a lower cost than "by the bottle only" menus. More customers can afford and enjoy wine, you sell more wine. Matching high quality carafes, available in 750 ml, 375 ml and 187 ml ( or 6.3 oz, which is the standard wine glass amount). If you only want to offer wine by the bottle or by the glass, these individual glass sizes are a great way to monitor amounts.
Features:
Wide mouth gives proper aeration
Helps wine achieve its full flavor
Use for wine, water, or juice
Ideal for restaurant or home use
Dimensional:
Capacity: 0.5 Liter
Measures 16 oz. / 473 ml. when filled to the rim
Height: 8.375 inches
Top Diameter: 2.5 inches
Base Diameter: 3 inches
Payment & Security
Your payment information is processed securely. We do not store credit card details nor have access to your credit card information.