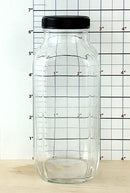 Description
Specialty craft bartending jars can serve any professional bartender and craft mixologist many great purposes. They are a fantastic way to store and keep your ingredients, garnishes and signature mixers fresh and easily accessible.

One of the biggest challenges in craft bartending is setting up your station so you can be most efficient throughout your entire service. All craft bartenders can relate to the many fresh ingredients that build their cocktail menu and signature recipes. Having a collection of craft bartending jars such as this French square style can definitely add a lot of benefits to your work station and the quality of your craft. Holding 16oz / 473ml, this craft jar showcases a thick, high quality sleek mold design along with a black screw on lid, ensuring longevity and freshness.
Features
High quality thick glass molding
Great for storing fresh ingredients suitable for craft bartending
Black lid fastens air tight to jar, ensuring longevity and freshness
Capacity: 16oz/473ml ounces
Measures: 6.75" tall 3" width and 2.5" x 2.5" square base diameter
Payment & Security
Your payment information is processed securely. We do not store credit card details nor have access to your credit card information.