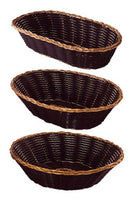 Description
These multipurpose woven baskets are great for breads, candies, hot towels, and many other tabletop and counter top uses. Made of black vinyl cord with gold anodized trim, they're designed for longer life than natural sources. Available in three shapes.
Measurements
Oblong: 9 x 3.75 x 2 inches
Round: 8 x 2.5 inches
Oval: 9 x 6.5 x 2.25 inches
Payment & Security
Your payment information is processed securely. We do not store credit card details nor have access to your credit card information.