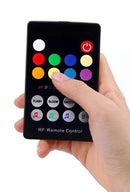 Description
Sync your LED lighting to music with this RGB Music & Audio RF controller! Features 3 Audio modes: Fast (DJ track), Dynamic (changes to music), Slow (Tenderness track change). You can adjust the brightness of the lights and the speed of the dynamic changes. The audio frequency's sensitivity can be adjusted via black knob. The music is synced in one of two ways: either hooking an aux cord directly into the 3.5mm input or from the microphone jack hearing the dynamic music.
Features
Connect to LED strip lights in bars and adult clubs and sync with music
Advanced PWM (Pulse Width Modulation) digital technology with 3 output channels
Signal frequency:400Hz
RF 18-key wireless RF remote
13 types of RGB modes, including 8 static colors
Microphone input syncs music and lights together
Payment & Security
Your payment information is processed securely. We do not store credit card details nor have access to your credit card information.