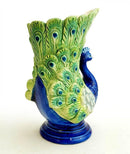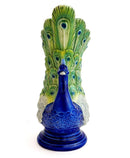 Description
The stunning stance of a peacock. This inspired ceramic tiki mug of the stunning bird is sure to have your guests in awe. Serve your favorite drink or many different signature craft cocktails in it. This peacock tiki is a perfect drinking vessel. Made from high quality solid ceramic construction with a smooth glossy finish that is sure to inhance your cocktail presentation. Measures 6 1/2" H x 3" W X 3" Base. Hand Wash Only
This product is copyright protected by BarSupplies.com INC ©2018. BarSupplies.com INC Legal enforcement will be taking on any and all infringement on our Proprietary Products. Contact us if you would like to be a re-seller.
Features
Measures 6 1/2" H x 3" W X 3" Base
Capacity: 18 ounces
Professionally hand painted and glazed
Perfect for any type of cocktail service
Hand Wash Only
The Peacock Cocktail:

1 oz. Midori Melon Liquor
1 oz. Blue Curacao
2 oz. Rum
2 oz. Pineapple Juice
1 oz. Simple Syrup
1 oz. Triple Sec
Sprite

Directions: 1. Add all ingredients to a cocktail shaker and shake vigorously. 2. Add ice to glass. 3. Pour mixture over ice and top with Sprite. 4. Enjoy!
Payment & Security
Your payment information is processed securely. We do not store credit card details nor have access to your credit card information.