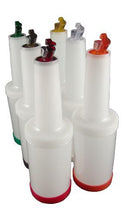 Description
Our "removable" flip-top Juice Master allows for an easy and smooth pour keeping dust and insects out at the same time. It easily disassembles into 4 separate pieces for a fast and efficient cleaning. The Juice Master comes in 6 colors, sold individually or discounted as a group of each color. When ordering in large quantities, multiples of 12 are appreciated.
All of our juice pourers offered are interchangeable between the neck and container.
Quart Size:
Quart Size
3 1/2 inches in diameter
13 inches from base to top of Spout
6 3/4 inches without neck, container only
Payment & Security
Your payment information is processed securely. We do not store credit card details nor have access to your credit card information.