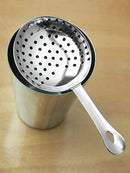 Description
For Those Occasional Classic Cocktails...

The Julep Strainer is a perforated metal strainer in the shape of a spoon. Unlike the 2, 4, or no-prong strainers, which fit snug across the top of a boston cocktail shaker, the julep strainer is too small for the opening in the container. The julep strainer, however, does fit gently within the mixing glass at an angle. It takes a little practice, but adds a nice touch to the process. Made of quality professional grade stainless steel.
Payment & Security
Your payment information is processed securely. We do not store credit card details nor have access to your credit card information.