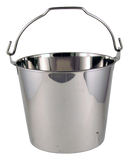 Description
Carry everything you need for work in this handy tool and tip bucket. This classic, stainless steel bucket is a great way to keep all your stuff in one place, and fill it to the rim with tip money.
Features
Versatile bartender tool or tip bucket
Easy to clean
Convenient handle to carry
Could also be used as a champagne bucket
Additional Info
Payment & Security
Your payment information is processed securely. We do not store credit card details nor have access to your credit card information.