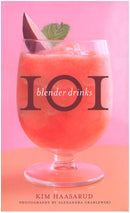 Description
Nothing cools down a hot summer day like an icy beverage straight from the blender. Whether you're lounging at the pool or barbecuing in the backyard, the perfect cold concoction can turn any summer day into a celebration.

Frozen daiquiris and margaritas are par for the course, but there's so much more you can do with your blender. In 101 Blender Drinks, Kim Haasarud, the Liquid Chef, provides a bevy of sophisticated and fun ideas for mixing up some icy refreshment. All the classics are included, but why not try some new creations?

You can also adapt your favorite drinks and cocktails for the blender—cosmopolitans, mojitos, and sangrias are perfect when mixed with ice. There are plenty of alcohol-free options, and you can even break out of the dessert doldrums with a Frozen Oreo Cookie drink or a Cool Caramel Flan.
Payment & Security
Your payment information is processed securely. We do not store credit card details nor have access to your credit card information.