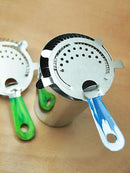 Description
We took our popular Vinylworks Four Prong Cocktail Strainer line and mixed things up a bit… literally. The mixed color grip adds a little no slip control and flair to your bar accessory arsenal.

No bartender would be caught dead without a couple of favorite cocktail strainers. Made to pair well with 28 ounce and 16 ounce shakers, they are made of stainless steel with a shiny finish and used to strain the ice from chilled cocktails and liquors. They are suitable for everyone, including professional mixologists, beginners, and home bar users.
Payment & Security
Your payment information is processed securely. We do not store credit card details nor have access to your credit card information.