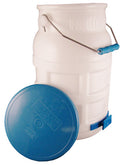 Description
This 6 Gallon Ice Tote is specifically designed for Food Safety as well as employee safety concerns. It durable design is virtually unbreakable, and it has an optional lid that covers the ice during transport or temporary storage.

Stores upside down with unique versatile base-mount handle.
Base-mount handle hangs on wire shelving edge for convenient storage.
Will not nest or stack with other foodservice containers to prevent cross contamination.
Dishwasher safe and chemical resistant.
Virtually unbreakable construction.
Special base-mount handle keeps ice tote from slipping while emptying ice.
Stainless steel bail with plastic comfort grip provides safe lifting and transporting for 28 pounds of ice.

Payment & Security
Your payment information is processed securely. We do not store credit card details nor have access to your credit card information.