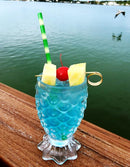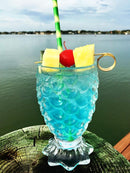 Description
You are going to absolutely love the elegance, detail and quality of this fun cocktail glass. This Upside Down Pineapple glass is the perfect vessel for any type of craft cocktail. It is made of a thick quality glass material giving you a professional look and feel. This unique design will set it apart from most other glassware taking your drink presentations up a couple of notches. Add this beautiful 8 ounce pineapple glass to your collection today. This pineapple glass measures 5" tall with 2 1/2" mouth.
Features
Embossed pineapple pattern glass
Made of strong quality glass
Holds 8 ounces
Measures 5" tall with 2 1/2" mouth
Payment & Security
Your payment information is processed securely. We do not store credit card details nor have access to your credit card information.