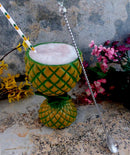 Description
Elegant stainless steel bar spoon is simply a delight to use with its 30cm length stem that twists down to a smooth spoon end. Bar Spoons are a common bar tool used in historic and modern mixology. They aid in the stirring process of aromatic spirits, being careful not to water them down and preserving their robust flavors. The stirring technique is one to be appreciated as well as respected! Popular for layering cocktails and enhancing drink presentations, a great addition to your tiki service. Made of high quality stainless steel, measures 30cm and tipped with an elegant detailed pineapple. It's durable construction and backed by the BarConic® brand will ensure longevity and show your guests "You reach for higher success, than the rest when mixing cocktails."
Features
Pineapple Design Bar Spoon
High Quality Stainless Steel
Measures: 30cm Length
Ideal for professional bartenders and master mixologists
Great addition to your tiki service
Payment & Security
Your payment information is processed securely. We do not store credit card details nor have access to your credit card information.