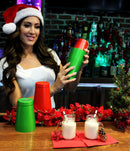 Description
Add a little splash of color to your next event, party or holiday bash. These BarConic® red paper bev naps are the perfect addition. Unfolded, they measure 10 inches by 10 inches and offer a 2 ply construction. This allows them to be more than ideal when searching for a high quality, durable napkin, while still being disposable.
They feature a simple, yet elegant embossed pattern around the outer edge. The durability of these 2ply paper napkins allow for a longer lasting drink condensation catcher with less mess. Consider these red beverage napkins to be ideal for a colorful bar service, holiday parties and other themed events. Sold by packs of 250 or 4 x 250 packs (a case) at a discounted price.
Features:
Vibrant, solid color
2-ply, high quality construction
Elegant, embossed pattern on outer edge
Perfect for bar service, catered parties, themed events, and holiday celebrations
Payment & Security
Your payment information is processed securely. We do not store credit card details nor have access to your credit card information.