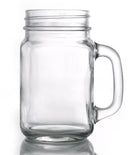 Description
GMason Jars are all the rave these days, whether you are a well-established bar, wedding and event planner or a DIY craft enthusiast. Mason Jars are a very versatile choice in glassware, as they can be used to serve up your creative signature cocktails, beers, ice teas and lemonades or even dessert cocktails such as root beer floats, sundaes and parfaits. Planning an event? Fill these jars with candies or other goodies for a unique presentation. The possibilities are endless!
This Barconic® brand is well known for its economical price and high quality products. The smooth, clear glass of this Mason Jar is perfect when you desire a beautiful presentation without a high cost involved. The sturdy handle also offers a comfortable and stable grip.
We also offer compatible Mason Jar Lids (sold separately) that fit this particular glass flawlessly. Create a tight seal for freshness and storage of any ingredient you can think of. Hand washing is recommended. Approximately holds 16.5 ounces. 2.5" Rim Diameter, Stands 5.25" Tall.
Features:
Durable, high quality Barconic® brand Mason Jar
Very versatile in uses
Perfect for cocktails, soda, juices, desserts and more
Ideal for bars, restaurant, event planners and DIY enthusiasts
Payment & Security
Your payment information is processed securely. We do not store credit card details nor have access to your credit card information.