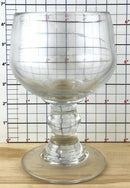 Description
The BarConic® Schooner is the perfect way to showcase your drinks in a creative way. Great for large beer pours (all types of beer), the schooner is also a popular way to serve frozen drinks or specialty cocktails at any bar or restaurant. The flared stem and large foot of the glass give it a sturdy base to hold the large drink capacity. The heavy duty glass is thick and durable enough for frequent use although easy to clean in any bar setup.
The schooner name comes from the shape of the glass - rounded with a shorter stem. This 20oz size, sometimes called a bowl, is a great alternative to a pint or traditional glassware and allows you to increase your drink size and presentation. The BarConic® Schooner is a great addition to any home or professional bar.
Features
Thick, heavy glass
Sturdy base
Holds 20oz
Easy to clean
6.5" H x 4.5" W
Weighs 1.5lbs
Payment & Security
Your payment information is processed securely. We do not store credit card details nor have access to your credit card information.