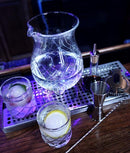 Description
If you are a craft cocktail connoisseur, then you will absolutely love this mixing glass set! The large 44 oz Stemmed Mixing Glass is a great vessel for creating any cocktail to perfection. With this set, you also get a elegant diamond pattern bitters bottle, stainless steel strainer, and hawthorne strainer. After mixing your cocktails, you can serve them up in your beautiful Diamond Cut Highball Glasses. Any beverage is sure to look top notch in this glass!
Whether you are a home bar enthusiasts or a master craftsman, we guarantee that you will love using these high quality bar tools. We have created this set to save you money and get you the best tools in the business! Don't miss out on this high end bartender set.
Summary
Perfect set for mixing all of your favorite cocktails
Bar spoon makes for easy stirring and strainer perfect for quick pouring
Elegant and sturdy Stemmed Mixing Glass with elegant diamond pattern
Great for home and professional bars
Makes an ideal gift set for any bartender or cocktail lover
Includes
Made of Glass
1 x BarConic® 440 oz Stemmed Diamond Pattern Mixing Glass
2 x BarConic® 14 oz Japanese Diamond Highball Glass
1 x BarConic® Hawthorne Strainer Soft Touch - Stainless Steel
1 x BarConic® 3 oz Bitters Bottle & Dasher Cork
1 x BarConic® Tall Double-Sided Jigger - Stainless Steel - 28mL and 56mL
1 x BarConic® Bar Spoon - 40cm
Payment & Security
Your payment information is processed securely. We do not store credit card details nor have access to your credit card information.