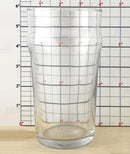 Description
This 20oz. English Pub Glass is the perfect addition to any tavern, pub or home bar. Guaranteed to become everyone's favorite glass, this traditional beer glass was designed to help your beer reach its full taste potential. The beautiful subtle shape of this glass exposes the hidden nuances of any high quality beer. The silhouette of this glassware impacts head development and retention, creating the consistent full-bodied flavors that everyone craves from their beer. The narrow waist helps to trap the diverse aromas while the shape supports a healthy head and allows for a generous pour. Made from premium quality glass, this handsome beer glass is built to last. The sleek contours look great and feel even better in your hand, providing a secure and confident grip. Our 20oz. English Pub Glass has the power to improve your beer's taste, aroma and overall aesthetic, thereby enhancing the perceived value and customer approval, garnering you a well deserved reputation for excellence.
Features:
Holds 20 fluid ounces
Nonic ridge creates secure grip
Made from hand blown durable glass
Designed to increase the quality of any beer
Payment & Security
Your payment information is processed securely. We do not store credit card details nor have access to your credit card information.