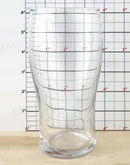 Description
Our BarConic® 20oz. Imperial Pint Glass is the perfect addition to any pub, home bar or restaurant. The unique shape and style of this unique piece of drinkware adds an appealing charm. The distinctive form makes it standout and will cause your patrons to take notice, guaranteeing that it will become a popular favorite in no time. This traditional beer glass was designed to provide an easy grip while also letting you experience the full potential of your favorite brew. The gorgeous silhouette of this glass releases the subtle flavors of any premium quality beer. The shape of this glassware impacts head development and retention, creating the consistent full-bodied flavors that everyone enjoys. Made from high quality glass, this handsome beer glass is built to last. This 20 oz. version of a classic pint glass accommodates more beer and brews with large crowning heads. The wide mouth is great for accommodating generous pours. Handsome enough for everyday use, the simple and beautiful design of this BarConic® 20oz. Imperial Pint Glass adds some extra personality and style to any bar or restaurant.
Features:
Holds 20 fluid ounces
Similar to Guinness beer glasses
Made from durable glass
Designed to increase the quality of any beer
Payment & Security
Your payment information is processed securely. We do not store credit card details nor have access to your credit card information.