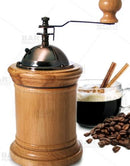 Description
Get the most caffeine and the best taste when you freshly grind your roasted coffee beans instead of purchasing pre-ground coffee. Freshly grinding your coffee at home creates deliciously smooth cups of coffee every time! This Coffee Mill is made of high-quality sturdy beechwood and polished copper plated metal finely crafted with you in mind! The grinding mechanism is adjustable to grind coffee beans coarse or fine depending on your preference. Simply open the small brushed copper plated door on the lid and put your coffee beans inside, grind and your done! The lid easily unscrews to reveal the coffee grounds.
Features
Adjustable grinding mechanism
Freshly grind your coffee beans at home
Made of beechwood and brushed copper plated metal
Payment & Security
Your payment information is processed securely. We do not store credit card details nor have access to your credit card information.