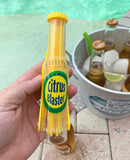 Description
No more sticky fingers or juice in your eyes! The Citrus Blaster is a patented new device to extract the juice from any citrus wedge. The user has the option of plunging the juice rind into the bottle, onto food or discarding into the trash. Each Citrus Blaster has been engineered to last, and is constructed from food grade resin. Other uses: The Citrus Blaster can also be used to squeeze juice onto fish, salads, meat, and seafood.
Instructions
1. Open lever, insert the fruit wedge into the opening (skin against ridges)
2. Squeeze the fruit until all juice runs through the opening at the bottom
3. Plunge the juiced fruit into bottle or drinking glass
Payment & Security
Your payment information is processed securely. We do not store credit card details nor have access to your credit card information.