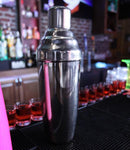 Description
We weren't playing around when we designed this giant shaker! The Colossal 3-Piece Cocktail Shaker holds 58 fl oz and is big enough to make shots for everyone at your party! Save time when making martinis, margaritas, shots and more. With over double the capacity of a standard shaker, this mammoth shaker will certainly help you get the job done. So, forget about refilling and shaking over and over again! As an added bonus...it's a great conversation piece too. All the ladies will want to see you "Colossal Shaker." At 13" tall, this one is hard to miss!
Features:
Save time and effort with this jumbo cocktail shaker
Perfect for busy bars or home use
Great gift for any bartender
Made of high quality durable stainless steel
Additional Info:
Dimensions: 13" tall x 4.5" wide
Holds 58 fl oz
Includes shaker base, midsection with strainer, and cap
Hand wash recommended (unless you have a colossal dishwasher)
Payment & Security
Your payment information is processed securely. We do not store credit card details nor have access to your credit card information.