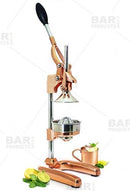 Description
This Copper Polished Citrus Press is a commercial grade manual citrus juicer with dimensions 7" x 8.5" x 17" and weight at 10.6 lbs. It's constructed of cast aluminum and the extractor / funnel being made of stainless steel with a rubber footed bottom keeping it in place though the toughest juicing jobs. Polished copper plating adds a touch of elegance and vintage craft to to this manual machine. With minimal cleanup required all removable parts are dishwasher safe and easily cleaned. Leverage is produced by the handle which juices all citrus fruits with ease. Simply place half the fruit onto the conical juicer cone and press the handle down to efficiently extract juice from the inner fibers of lemons, limes, oranges, grapefruits and so much more!
Features
Commercial grade
Removable parts all machine washable, dishwasher safe
Polished copper adds vintage elegance to this high-end citrus press
Constructed of cast aluminum and stainless steel with polished copper plating

Dimensions

7" x 8.5" x 17"
Weight: 10.6 pounds
Payment & Security
Your payment information is processed securely. We do not store credit card details nor have access to your credit card information.