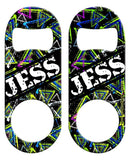 Description
If you are someone that is a fan of our mini style speed openers then you are sure to love the fact that you can now customize them with your very own name! Choose from a selection of fun colorful design templates, such as this "Abstract Triangles" and simply type in your text... our design team will do the rest!

Mini Bottle Openers are certainly popular among the ladies, as they fit perfectly in small back pockets. The also work in conjunction with our retractable reels that clip onto your pants for quick and easy access as well as the ability to never loose your bottle opener. These Mini Bottle Openers are designed after the popular speed opener and work just as efficiently.
Features
Printed in full vibrant color on both sides of the opener
Offering the ability to customize with your very own name
Constructed from a durable stainless steel material
Measures 4.25"L x 1.10"W
Payment & Security
Your payment information is processed securely. We do not store credit card details nor have access to your credit card information.