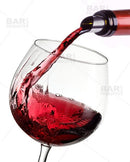 Description
This Drop Stop Wine Pourer comes complete with a neck hanger for displaying the wine pourer on the bottle itself. The pourer is easily removed from the neck hanger; simply tear it away along the perforated edge. This flexible wine pourer is easy to use and fits any wine bottle neck size. By rolling the flat circular piece inward you create a cylinder that fits into the bottle neck for a drip-less pour and no more of those pesky red wine stains!
Features
Flexible and drip free pourer
Fits into any wine bottle neck size
Easy to use and clean
Measures 3" diameter
Payment & Security
Your payment information is processed securely. We do not store credit card details nor have access to your credit card information.