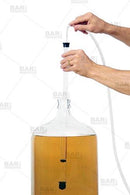 Description
Take out the worries and troubles of siphoning your homebrew with this Fermtech Auto-Siphon. One stroke of the racking piston will start a siphon when in as little as 6" of beer or wine. Very easily disassembled for cleaning. Requires 1/2" siphon hose, but it is recommended that you use 7/16" dipped in warm water so that you get a better seal.
Features
Single stroke action draws a siphon without disturbing sediment
Precision designed for smooth, leak-free operation
Simple to sanitize and easy to use
Removable tip prevents siphoning of sediment
Payment & Security
Your payment information is processed securely. We do not store credit card details nor have access to your credit card information.