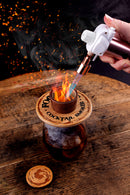 Description
Take your spirits and cocktails to the next level with something unique, visual, aromatic, and tasty.  Our Fog Shot Whiskey and Cocktail Smoker Set allows you to deliver an amazing drink experience to your bar, club, or restaurant guests.
With included shot glass-style smoking cups, you can quickly switch out wood chip flavors, or simply extend the life of your Fog Shot.  Each cup fits perfectly in the cup ring and can be changed out in seconds for fun smoke flavor combos!
A smoked whiskey or cocktail is an eye-catching showstopper for guests.  It immediately attracts attention and provides a mouth-watering aroma to entice everyone around it.  It also makes a fantastic gift for the home bar enthusiast looking to impress friends and family with a delicious and stunning visual presentation.  The Fog Shot comes with a cup ring, cup lid, shot cup, two metal filters, and a pouch of flavorful oak wood chips.
Features
Fun shot glass style cup design

Cups made of quality hardwood

Simple design is easy to use and fits most glasses

The cup ring and cap can be customized!

Handcrafted in the USA!
Dimensions
Cup Ring:  4" diameter with a 1.63" hole

Cup Lid:  2" diameter

Smoker Cups:  2.43" height, 2" top diameter, 1.38" base diameter

You must leave at least 1" of space between the top of the glass and the contents of the glass to avoid contact with the smoker cup.
[complimentary product recommendation here - culinary torch, 17oz stemless wine glass ]

How to use:

1. Prepare your preferred spirit or cocktail.

2. Strain your cocktail into your glass of choice (The Fog Shot is designed to work with most glassware styles). For an extra chill, ice balls or king cubes are recommended to avoid ice melting too quickly and watering down your spirits.

If you enjoy a chilled spirit, we suggest using a mixing glass and lightly "stir" your concoction with large ice cubes.

3. Place the Fog Shot ring onto the rim of the glass with the hole for the shot cup close to center, then place the shot cup inside the ring (ensure the lid is off).

4. Spoon your oak wood chips into the shot cup and place a metal filter over the chips. You don't need a lot! Just about 1 tablespoon will do the job.

5. In a SAFE ENVIRONMENT, ignite the wood chips using the New Port culinary torch. Torch the chips for a few seconds until your desired smoke fills the glass. Quickly place the Fog Shot lid/cap onto the shot cup in order to trap the smoke inside, forcing the smoke to fill your glass. Watch as this adds an aromatic and woodsy flavor to your cocktail, as well as the interior walls of the glass. 

7. Once you feel you have infused enough smokey flavor, carefully remove the Fog Shot ring and cup from your glass and enjoy!!


** Please be sure the flame is extinguished entirely when not in use.
Payment & Security
Your payment information is processed securely. We do not store credit card details nor have access to your credit card information.