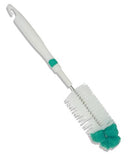 Description
Clean even the tallest of glassware with our Rotary Glassware Brush. This glassware brush features a cube sponge tip to scrub deep into your glassware, and a row of soft bristles to clean the sides. Its long handle allows you to reach deep into your glassware, so you can keep them crystal clear.
Summary of Highlights and Features
Reaches deep into your glassware
Tool for both the kitchen and bar
Features sponge tip and soft bristle sides
Saves time and energy
Great for wine glasses, carafes, and flutes
Additional Info
Length: 14 inches
Brush Diameter: 2.25 inches
Brush Length: 5.5 inches
Handle Material: Plastic
Brush Materials: Sponge and Bristles
Payment & Security
Your payment information is processed securely. We do not store credit card details nor have access to your credit card information.