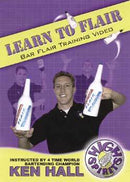 Description
Learn flair from the Champ. This video takes an innovative approach to training. Not only does this video teach the moves, but also it teaches you to put the moves into routines. The video takes you on a progressive trip through four different routines, from working flair moves, to competition flair moves. Ken Hall reveals some of his tricks of the trade that helped him to win multiple bartending competitions, including both National and World championships, and will hopefully get you on your way to your first competition.
Ken Hall is a true World Champion flair bartender.
Some of his titles include:
1996, 1998, 2000, 2001 Quest for the Best Champion
2001 City Walk - Summit of Bartending - Team Champion
2003 Showtender's World Bartender Champion
2003 FBA Triple Challenge Working Flair Champion
Payment & Security
Your payment information is processed securely. We do not store credit card details nor have access to your credit card information.