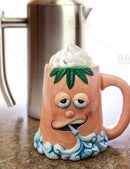 Description
The Little Stoner Mug holds 14oz of steaming hot coffee, tea, fun cocktails and more! This ceramic mug is durable, tough and easy to clean. Its interesting "Little Stoner" design is sure to catch the attention of onlookers and shows your fun side!
Note: This ceramic mug is hand painted and fired. Slight color variations are possible.
Features
Capacity: 14 ounces
Fun ceramic coffee / cocktail mug
Ideal for tropical or frozen cocktails
Can also be used for coffee and other cafe beverages hot or cold
Payment & Security
Your payment information is processed securely. We do not store credit card details nor have access to your credit card information.