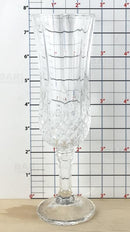 Description
Style, elegance and quality are all desirable traits when it comes to a professional mixologists cocktail presentation. This Luminous™ Stemmed Champagne Glass showcases just that! The stunning diamond cut pattern that differentiates this luminous family of glassware from others is simply defining in the world of mixology. A thick glass mold and sleek design boasts the quality to be expected with this brand of glassware. You will simply love serving your gorgeous libations in this beautiful champagne glass.
Features
Glass capacity: 5 ounce
Dimensions: 7.75" height x 2.25" rim diameter x 2.25" base diameter
Luminous™ family: high quality, thick glass molding with defining diamond cuts
Ideal for Craft Bartenders and Master Mixologist's
Payment & Security
Your payment information is processed securely. We do not store credit card details nor have access to your credit card information.