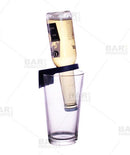 Description
Beergaritas are one of the hottest new Bar trends! It is the perfect way to up-sell a Margarita, and customers love the novelty of it. Plus they are super simple to use, and can be used with margaritas that are frozen or on the rocks.
We have two different Coronarita bottle holder clips for different style glasses. For angled margarita glasses, the yellow clip is perfect. The Yellow clip also works with the BarConic® 12 ounce Margarita Glass. The blue clips work with straight sided margarita glasses, and even pint glasses.
Summary
Great way to up-sell margaritas and increase profits
The only way to create a delicious Beergarita
Intended for use with Coronitas®
Works with margaritas that are frozen or on the rocks
Fun for bars and restaurants of all types
Additional Info
Blue Clip- Intended for straight sided glasses (3.5" x 2.2")
Red and Yellow Clip- Intended for use with angled glasses (3.2" x 2.2")
Made of food safe plastic
Care
Payment & Security
Your payment information is processed securely. We do not store credit card details nor have access to your credit card information.