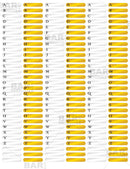 Description
The Master Mixology Bitters and Mixers Bottle Labels are a necessary addition to any craft cocktail supply set. The sticker labels allow for easy organization for your specialty bitters and bar mixers as you concoct exciting new flavors. Easy to write on and apply, the bottle labels have a classic "old fashioned" look that will set you apart as a true master of your craft. This set is perfect for labeling anything from your standard mixers to the chocolate, citrus, spice, nutty or newly-invented bitter variety. The white and gold labels come with six full alphabet sets for quick identification (three of each color) and 18 additional blank labels, which comes to a total of 174 high quality, waterproof vinyl stickers. These stickers will not leave a sticky residue after you remove them from your glass bottles, therefore interchanging different ingredients will not hinder the beautiful clarity of your quality glassware.
Features
Each sheet has 174 sticker labels
Classic silver and gold colors
Easy to write on
Six full alphabet labels and 18 blank labels per sheet
Will not leave behind a sticky residue on the glass - Easily interchangeable
Bottles not included
Payment & Security
Your payment information is processed securely. We do not store credit card details nor have access to your credit card information.