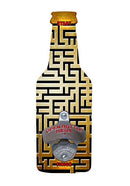 Description
Find your way to open beers with this a-MAZE-ing opener. Don't be puzzled, we're not playing mind games here, because we've cornered the market on providing fun designs on handcrafted bottle openers.
Wall Mounted Wood Plaque Kolorcoat™ Bottle Openers
Dimensions: 10.3" x 5.5"
Full color printing on wood
Features Attached Cast Iron Bottle Opener
Two holes for mounting
Makes a perfect gift
Hand-crafted in the USA
Payment & Security
Your payment information is processed securely. We do not store credit card details nor have access to your credit card information.