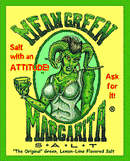 Description
The world's first lemon-lime flavored salt that's GREEN! By using Mean Green Margarita® Salt in place of boring plain white salt, bar owners are adding big value to all margaritas.
Make Em Pucker and Say WOW!
Sales of "Specialty Margaritas" are booming.
The Margarita is ordered more often than any other mixed drink in the world.
It combines the most popular color (Green), with the most popular new flavor (Lemon-Lime), into one "make'em pucker and say WOW" salt.
Adds BIG value to any margarita for just a few pennies.
No need for all the other space consuming colors or flavors when you have this Ultimate Combination.
A natural place to keep it. Sugar (which is rarely used) in the bottom tier is always getting contaminated by white salt in the middle tier. These two work well together. <
Payment & Security
Your payment information is processed securely. We do not store credit card details nor have access to your credit card information.