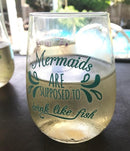 Description
Throw a Mermaid Themed Dinner Party with these adorable wine glasses! The Mermaids are Supposed to Drink Like Fish Stemless Wine Glasses are perfect for serving all types of wine from Pinot Grigio to Rosé. They are available in 4 fun colors, but we especially love the set of 4 together. Plus, having 4 different colors will allow for easy distinction of which glass belongs to you! This is a great gift set for Christmas, birthdays, house warming parties, and more! Go ahead and drink like fish!

These are made of real glass and printed using a ink especially designed for glassware. We do recommend hand washing. They hold 17 lf oz when filled to the rim, so they have plenty of room for mixed drinks or wine. The stemless design has become a favorite of wine lovers everywhere.
Features
4 Colors to choose from: Pink, Purple, Blue, Green
Measures 17 oz. / 412 ml. when filled to the rim
Made of glass
Can be used for cocktails or wine
Perfect for Summer and Cocktail Parties
Payment & Security
Your payment information is processed securely. We do not store credit card details nor have access to your credit card information.