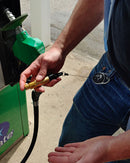 Description
This fashionable hand sanitizer atomizer is the perfect solution for your everyday sanitation needs. Simply clip it onto your belt loop, purse / bag or anywhere for a quick and accessible sanitizing option. This container is lightweight, high quality, refillable and the best part, it retracts out to 30"! So whether you are tending bar, handling money or pumping gas have your Mister Leash™ ready and destroy those nasty germs.
REFILLABLE - FASHIONABLE - ACCESSIBLE - RETRACTABLE
The Mister Leash™ is a fashionable alternative to boring hand sanitizer containers, and is offered in several design options.
FEATURES:
Lightweight, fashionable and high quality
High tech atomizer ensures a consistent mist with every use, dispersing the perfect amount of sanitizer
Gold plated capsule offers added protection from leakage
Easily refillable with your favorite sanitizers (small funnel also included)
Durable retractable cord reaches up to 30" in length
Conveniently clips to belt loops, purse straps and back packs
This refillable mister can also be used for other things such as perfume, mouth spray and even water to cool you down on a hot day.
Payment & Security
Your payment information is processed securely. We do not store credit card details nor have access to your credit card information.