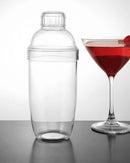 Description
These 3 piece Clear Plastic Cocktail shakers are a great economical solution to yummy bar mixes. They are made from a durable plastic and come in 3 convenient sizes. Because of the clear plastic, these cocktail shakers look super cool to your guests when shaking up colored drink concoctions such as Blue Kamikazes.
Highlights
Economically priced cocktail shakers
3 piece cocktail shakers with lid and built in strainer
Made of plastic
Your guests can see exactly what you are mixing up
Come in 3 sizes- 6oz, 17oz, or 24oz
Care
Payment & Security
Your payment information is processed securely. We do not store credit card details nor have access to your credit card information.