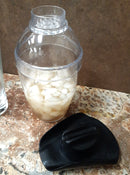 Description
These 3 piece plastic cocktail shaker sets include the cup, strainer, and cowboy hat shaped lid. High quality acrylic, easy to use and shake up a perfect cocktail. Cowboy Cocktail Shaker available in clear that really shows off the color of your latest concoction. Whatever you are shaking up; martinis, margaritas or your favorite shot recipe, our plastic Cowboy Cocktail shaker set is the perfect way to go promote your country bar or themed party. Holds 16 ounces.
Features
Cowboy Hat Cocktail Shakers - Pink or Black
3 piece shakers with cowboy hat lid and built in strainer
Made of high quality acrylic
Holds 16 ounces
Your guests can see what you're shaking up
Payment & Security
Your payment information is processed securely. We do not store credit card details nor have access to your credit card information.